"In Settembre l'uva matura e il fico pende" (Proverbio popolare).
Here we are in September , when farmers are hoping that the climate will be the right to ripen the sweeter fruits of the year, figs and grapes, as remember this proverb:"In September grapes ripe and figues hang".
In September Tuscany comes alive with festivals dedicated to grapes and the harvest , cellars open their doors, music and typical products fill the squares. Visit our region in this period is to discover a territory in an explosion of flavors and local events. Can not miss, of course , the long-awaited culinary festivals that enliven the squares and villages with their traditional dishes .
We will be happy to accompany you on this journey of culture , flavors , colors and emotions !
September:
STARTING DATES OF THE ITALIAN LANGUAGE AND CULTURE COURSES
5/9, 19/9 Complete/Intensive Course
12/9 Afternoon Courses for Residents
5/9 Italian Language for Medicine
19/9 Italian Language for Commerce
5/9, 12/9, 19/9, 26/9 Italian Survival Pills
STARTING DATES OF THE PACKAGES OF AFTERNOON ACTIVITIES
5/9, 19/9 "DOLCE VITA": Visiting the territory and enjoying food and wine tasting.
5/9 "DISCOVERING TUSCANY": To visit the territory on foot, on a Fiat Cinquecento and on an old-fashion horse-drawn wagon!
5/9 "SHOTS OF ITALY": Photographing together to discover the territory and its heritage behind a lens.
19/9 "DE GUSTIBUS": Cooking, experimenting and tasting.
19/9 ""NATURALMENTE": To visit the surrounding area "at a walking pace" and find out more about the world of plants and natural medicine.
FREE APPOINTMENTS
Cinema italiano: Every Monday at 2.30 pm, the appointment is with the Italian Cinema – Every week we meet to watch an Italian language movie at our Cinema club. Teachers introduce the story and the essential vocabulary to facilitate the understanding of the film.
Italian Speed Date: Every Wednesday at 6.00 pm it's the turn of the new entertaining space dedicated to language exchanges! Italians who study a foreign language are invited to practice it with our students of Italian. From 6.00pm to 6.30pm we speak in Italian and from 6.30 pm to 7.00 pm, at the sound of the bell, you will talk in your native language. We distribute to participants a list of questions to facilitate the conversation and not to run out of things to say. There are no limits of race, sex, age or religion … the curiosity to learn, the desire to have fun and to speak a foreign language are the ingredients of Italian speed dates!
Apericena: Every Thursday at 6.30pm APERICENA time at the legendary Bar Gianni, next to our school. An occasion to know the newcomers, have a chat, spend time in the company of teachers and other students, of course practicing and speaking Italian only! Everyone is welcome to join us: Italian and not Italian, students, teachers, friends and familiars!
EVENTS IN THE AREA

September 7: Festa della Rificolona in Piazza SS . Annunziata in Florence: A procession through the city center with colored paper lanterns: a really exciting show and a play of light and colors. Beginning at 21:00. Market in the square throughout the day.

5 to 25 September : 89th Grape Festival – Impruneta (Florence) : parades and pageants , fairs of typical products , racing carts and nature walks. All this accompanied by tastings of grapes and local wine. But the event not to be missed is Sunday, September 25 . On this day there is the parade of floats built in the four districts of the country ( Fornaci , Pallò , Sant'Antonio and Sante Marie ) . Between the districts runs a heated rivalry in the days preceding and following the festival , and Sunday becomes the occasion for a healthy challenge shots of choreography and stage machinery. www.lafestadelluva.it

9-10-11 settembre: COOKSTOCK in Pontassieve (Florence):
3 days of food, wine and music that will alternate chefs – that will demonstrate how to cook is an art that combines taste, technique and taste – sommeliers and characters of the Florentine culture that will explain the wine and the charm of the timeless process which starts from the vineyard and ends on our tables. An opportunity to taste the delicious creations of the street food artisans accompanied by beer and lots of music.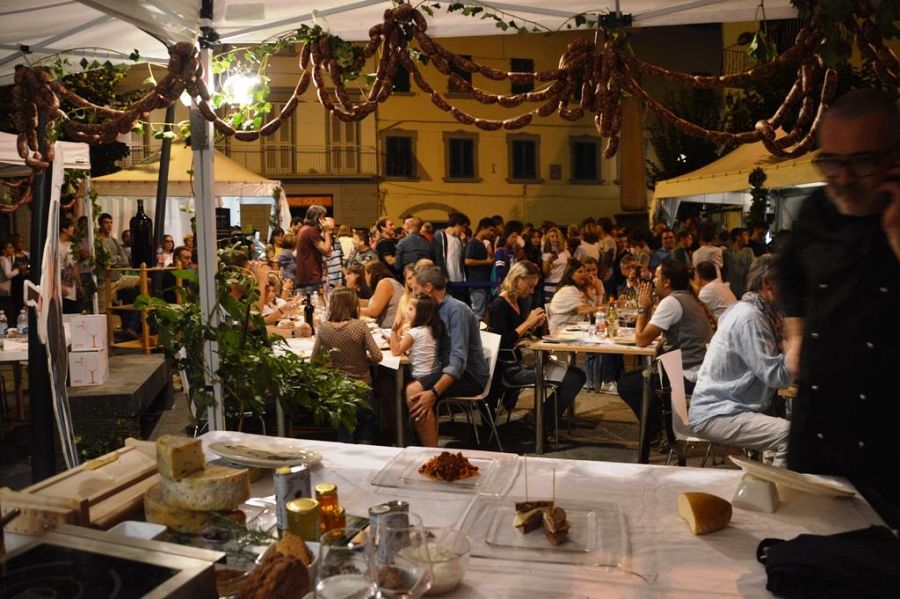 Salva